Myanmar is a place that got left behind in SE Asia's tourism boom, primarily due to political and domestic strife. As a result, it's now a gem waiting to be discovered giving the tourist a chance to see what the rest of the region was like decades ago. From valleys full of ancient temple ruins to mountains dotted with hill tribes living off the land they tend by hand, Myanmar is full of culture, beauty and adventure. Despite it's Thai, Indian, and Chinese influences, the food doesn't rate highly compared to it's neighbors but there is always food to enjoy in my opinion.
1. Shan Khauk Swe, Shan Noodles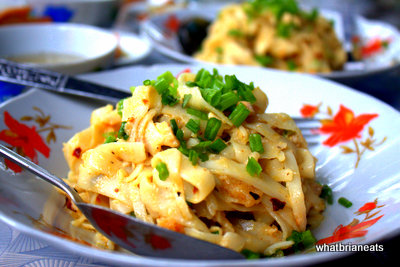 Shan is a mountainous province in Myanmar filled with local hill tribes who live off the land without any modern conveniences. This popular noodle dish is found and enjoyed all over the country. I tried this dish a few times, but this plate was served in a small shop on the outskirts of Kalaw. It was right next to the police station and a number of the officers were enjoying their breakfast and tea at the same time.
2. Laphet, Burmese Tea Leaf Salad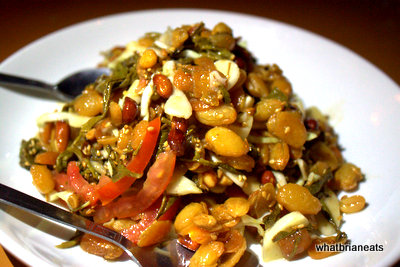 This iconic salad's flavor comes from pickled tea leafs, which may sound terrible but actually has a pleasant and creamy pesto-like flavor. This salad was served with fresh tomato, nuts, seeds, dried fruits, and more. I found this dish all over Myanmar, especially in the Bagan region.
3. Tomato Salad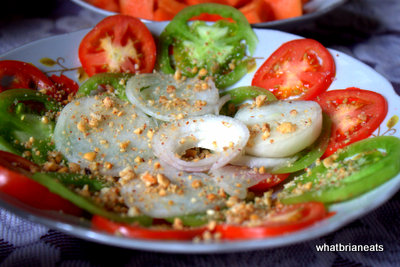 This tomato salad was made by our own personal cook during our 3 day hike through the Shan Mountains between Kalaw and Inle Lake. It was fresh, simple, and delicious!
4. Burmese Tea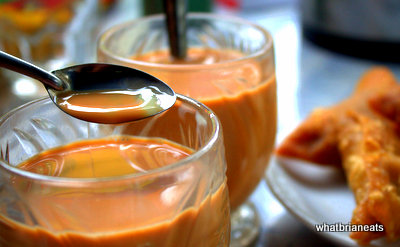 Burmese tea seems to be more about the sweet and creamy evaporated milk more than the tea itself. Even after it's stirred, you can still get a healthy spoon full of goodness from the bottom of your glass! The interesting part is that it is usually served with a plate (or more) of local snacks that you can decide to eat or not. You only pay for what you eat and leave the rest.
5. Hand-Made Chapati Bread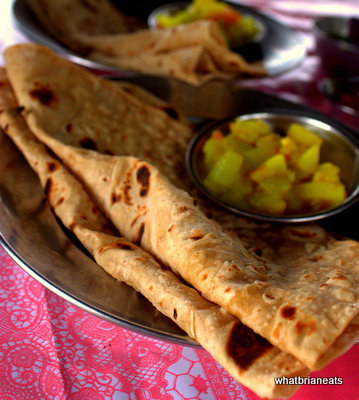 Everyone around me knows my love for any bread-like food available. This incredible chapati bread started with an old woman in the mountains making and grinding the dough by hand, and then flattening and cooking it over a hot fire. Served with a variety of Nepal-style dishes and curries, it was an excellent lunch to fuel our hike.
6. Mango Lassi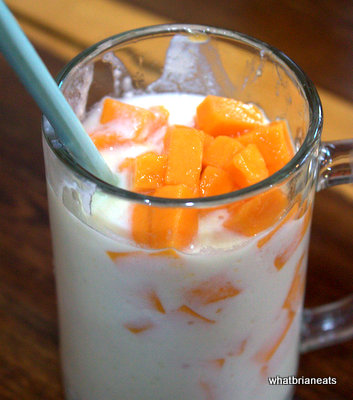 I was happy for the Thai and Indian influences as in my mind this combined two of my favorite drinks…The Thai Mango Shake and the Yogurt Lassi. This subtly sweet and rich yogurt can be drank with a straw and serves as a beverage and a snack!