Chongqing is one of only 5 city/states in China (think Washington DC) and has a population of 30 million people. This buzzing metropolis is the site where the Jialing and Yangtze Rivers join and the starting place for the famous Three Rivers Gorge tour. Mountains tower over the skyscrapers to provide great views from either vantage point. The best part is that within an hour you are in the countryside exploring the trails, caves, waterfalls and ancient villages of the many mountain ranges that surround the city in every direction. But enough of all that, let's talk about food…
1. Kou Rou, BBQ Meat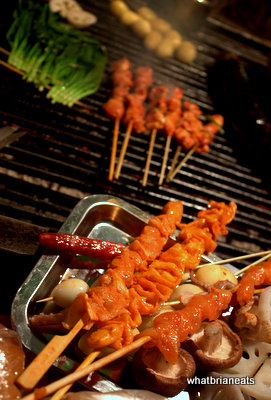 This city, like a lot of places in China, is filled with street-side stalls offering everything from bacon to beef lung ready to be thrown over the fire (literally). We were hungry from walking around in the rain so I chose a handful of delicious looking items and 15 mins later they arrived on the sidewalk table covered in a spicy chili sauce and ready to devour. The best part is that these stalls are open late into the night.
2. Huo Guo, Hotpot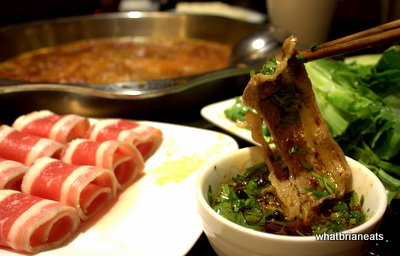 This isn't the first time I've posted about Hotpot, but Chongqing is famous for this spicy soup that you use to cook your raw meat and vegetables on your table. Now that this is becoming more of a staple for me, I'm beginning to realize how important the ingredients are. You'll notice the fresh slices of beef rolled nicely on the plate that you can cook to your likeness. You'll also notice the bowl of sauce I made by choosing from over 30 seasonings, oils and pastes which evolves throughout the meal by being dipped in to. Remembering all this makes me forget about the numb tongue and never-ending sweat that rolled off my forehead while enjoying it.
3. Guan Guan Fan, Claypot Rice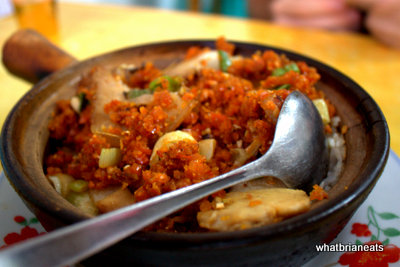 Think fried rice, but instead of being fried in a wok it's baked in a clay pot over fire. Then it's topped with your choice of spicy meat. The best part is the bit of rice that gets charred to the clay on the inside of the bowl.
4. Dim Sum and Dumplings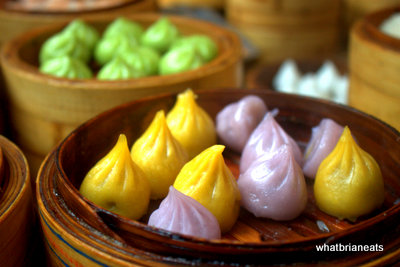 One day while exploring the city, we stumbled upon an entire food center specializing in every kind of dumpling or piece of dim sum you could imagine. We saw armies wrapping xiao long bao, aunties steaming baskets of bao, and uncles soaking duck tongues or potato slices in hot spicy oil. I could post dozens of pics of this place alone! But perhaps the most interesting were these colorful dumplings, each filled with their own ingredients…I think I had about 2 dozen of them.
5. Ma Hua, Local Crackers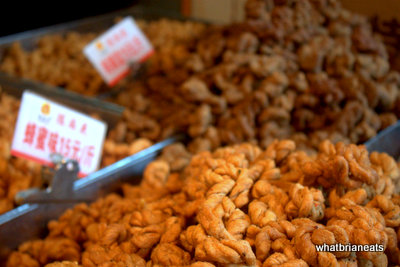 I saw loads of this popular snack while visiting the old-town. They are basically flavored dough twisted and fried until crunchy. The interesting thing is that they come in a variety of flavors. Without knowing that, I picked up a few handfuls of them and threw them in a bag. Later when I wanted a snack I popped one in my mouth and I was pleasantly surprised at its chocolate flavor. The next minute I tried one that started numbing my tongue and reminding me of spicy hotpot.