Phuket is the place that most people go when they plan a beach trip to Thailand. Like many places in SE Asia, it's an odd clash of Western tourism with local flare, which makes for an eclectic mix of people and things to see & do. With a bit of effort, you can still always find the food that defines an area. Here were some of my favorites:
1. Fresh Coconuts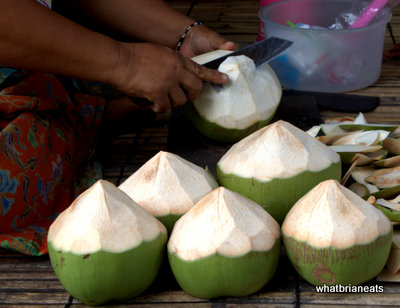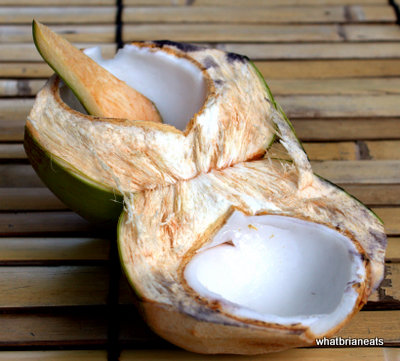 These coconuts were so awesome that they deserved two photos! While doing a full-day bike tour of nearby Koh Yao Noi island, we came across a farm where a woman offered us freshly chosen coconuts. They were literally chopped from the tree within the hour. After drinking the milk inside, she chopped them in half so we could scoop out the pulp with a spoon she carved by hand from the shell.
2. Thai Chilli Sauce & Seasonings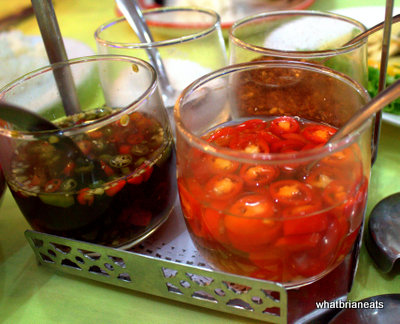 You are probably thinking this is an odd food highlight, but this is what you'll find on every table when eating Thai food. Do you see that jar on the left? The black sauce with the red and green chunks floating in it? That's fish sauce with chopped Thai chili peppers. You can add it to anything and it transforms an amazing dish even better. It adds a little salt, a lot of heat and makes even plain rice dance in your mouth. Use liberally and often.
3. Tom Yam Soup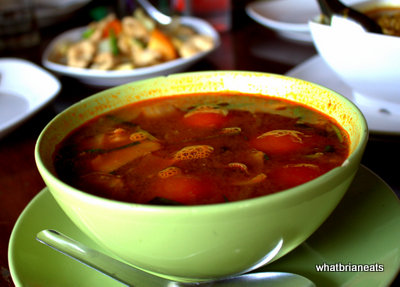 This dish will sound familiar to almost everyone and it's definitely an acquired taste. It was only until I visited Thailand that I gained an appreciation for this sour and spicy soup. This particular version, which was home made in a beachside guesthouse, was the best I've had. The base itself was flavorful and surprisingly satisfying while the ingredients, including fresh seafood, added even more depth. It was the first time I found my arm helping myself to more and more.
4. Fresh Grilled Fish with Sweet Thai Chili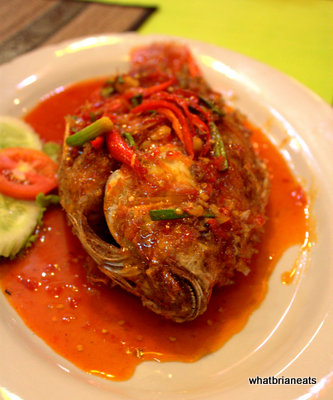 This one is simple. You walk by a small streetside restaurant with fresh seafood piled on ice. You choose the items that you would like and the way that you would like it prepared. Then you sit down and wait for something like this to appear. I actually followed these steps a few times, but the one above was possibly my favorite. A fresh fish, grilled to perfection and topped with fresh herbs and Thai sweet chili sauce. It doesn't get much better than that.